Just How Crazy Is This $43,870, Dual-System PC from Overclockers UK?
Staff – April 9, 2019 at 4:16 AM
Part of the joy of PC gaming is optimizing your system for peak performance, and planning out upgrades that'll help you get even more out of your hardware. But if money was no object, what sort of rig would you end up with? Well, it'd probably look like the Orion X2, the ultra high-end rig from Overclockers UK that costs a mere £33,000 — approximately $43,870.
The Orion X2 is, according to its designer, Ian "8Pack" Parry, "the best performing PC on the planet with the best operating temperatures, more advanced mods, and crazy-distinctive looks." And it's not even the first uber-elite rig from Parry — the Orion X2 is the successor to Parry's 2016 Orion X.
Parry says he designed the Orion X2 with no specific user in mind, because "if you make a PC for a certain sector you apply limits, and this is a machine with no limits."
Like its predecessor, the Orion X2 is a dual-system rig. The primary E-ATX system features an Intel® Core™ i9-7980XE processor (overclocked to 4.6GHz), a custom graphics card configuration (either two NVIDIA RTX Titan Turing graphics cards connected via NV-Link or three NVIDIA RTX Titan Turing graphics cards running independently), 128GB DDR4 RAM, two 2TB Samsung 970 Evo M.2 NVMe-SSDs (primary and backup), and a 14TB Seagate Ironwolf Pro HDD. The secondary Mini-ITX system sports an Intel® Core™ i7-9700K processor (overclocked to 5GHz), an NVIDIA RTX Titan graphics card, 16GB DDR4 RAM, two 2TB Samsung 970 Evo M.2 NVMe SSDs (RAID 0 configuration), and a 14TB Seagate Ironwolf Pro HDD.
Both systems run Windows 10 Pro, are powered by a 2000-watt power supply and cooled via a custom-built triple loop water-cooling array that culminates in a sweet-looking reservoir in the shape of the 8Pack logo. This is all housed in a massive Phanteks Enthoo Elite tower — customized with the 8Pack logo and modified to fit the unique cooling system — which costs $900 alone.
The Orion X2 looks impressive, both in person and on paper, but it's probably still a little difficult to wrap your head around that $43,800 price tag. So we asked Parry to walk us through exactly what an ultra-elite system like is built for — who it's for, what it can do, and why it costs more than a sports car.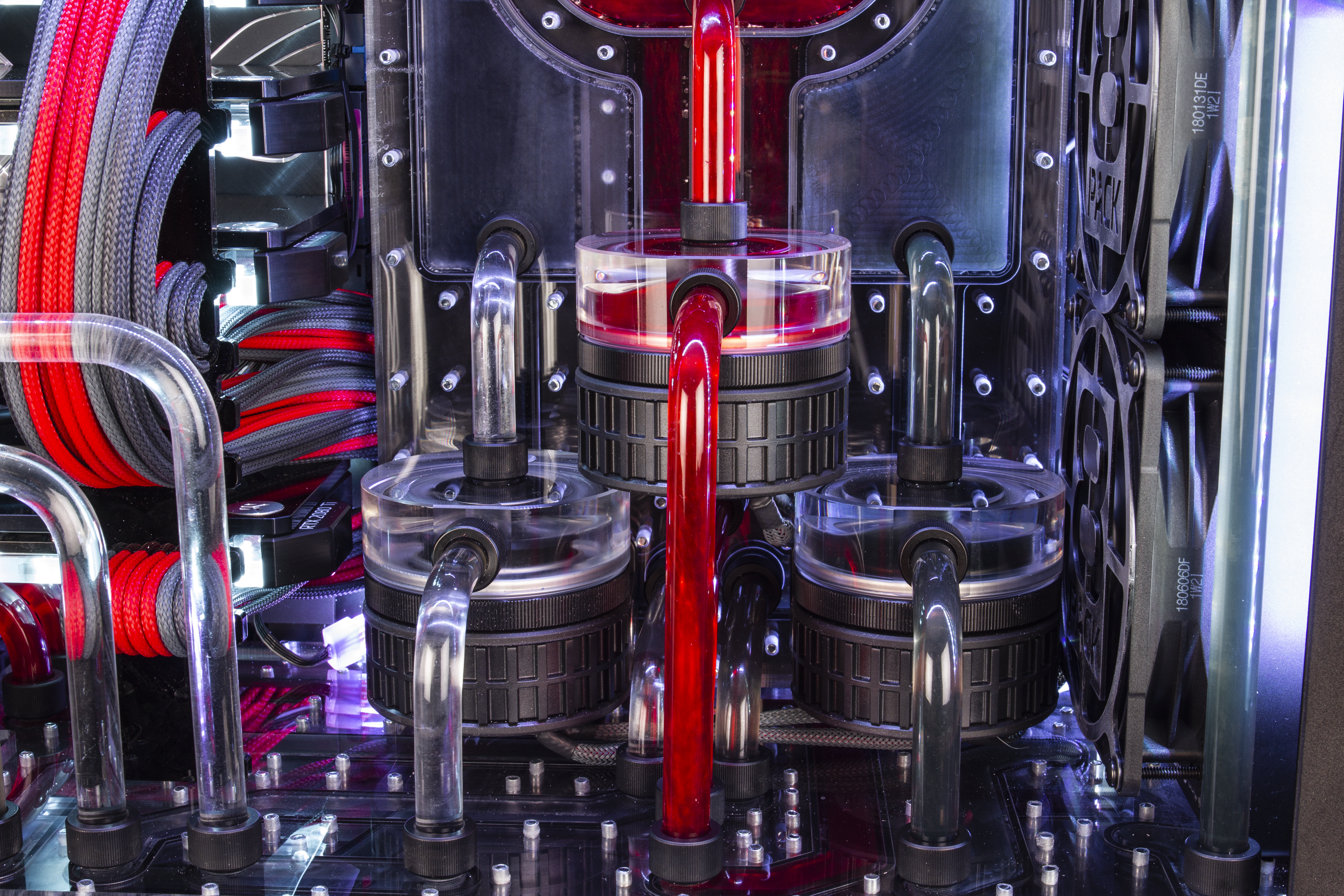 What kind of gamer needs a system like this?
If you can't afford the Orion X2 because you just bought a sports car, good news — you'll still be able to hit your gaming stride with a less-pricey PC. "No gamer needs two systems — even at the elite level — just for gaming; you do not need such a rig," Parry says. "If we're talking about this PC in terms of gaming, though, what you get is a better gaming experience because all the components are tuned to be incredibly fast while gaming."
Living up to its name, Overclockers UK overclocks basically everything that can be overclocked in the Orion X2: Both CPUs, the system memory, the GPU core speed, and the GPU memory. The rig also has the fastest storage available in RAID. For gamers, this means "more frames per second (FPS), more fluid gameplay, better sound, faster loading times," and the ability to "crank up the eye-candy to the max, all in a very quiet machine," according to Parry. If you plan on streaming or recording while you're playing — even better: The rig has "a lot of headroom available for running other tasks simultaneously."
How were these components picked?
It's pretty easy to see that the underlying philosophy here is "the best of the best," according to Parry. "The Intel® Core™ i9-7980XE is the most overclockable and performant high-core CPU available that not only renders great and multitasks well — it also games crazy-well while offering good instructions per cycle (IPC) and single-core performance," Parry explains. "We take a batch of these CPUs and speed-bin them to find the best parts for overclocking high in this system." (Speed-binning involves testing identical components to meet different standards.)
It's because of this process, Parry says, that the rig can offer a stable, 24-7 4.6GHz overclock on the Intel® Core™ i9-7980XE with high cache and memory. "High cache and memory contribute a lot to the system and what I call efficiency," Parry says. "I want not only high clocks, but also the maximum improvement in performance from those clocks."
So, why does it cost $43,870?
You're not just paying for the components and workmanship — many other factors are present when it comes to developing a system as elite as the Orion X2.
"This system is almost impossible for a DIY'er to build," Parry says. "First, you need access to all the hardware so you can select the best of the best — around one in ten CPUs is good enough for the Orion X2, so binning alone becomes very expensive."
The Orion X2 isn't just a bunch of expensive components stuffed into an extravagant case. Each component is carefully tested and selected for maximum performance, and the build is meticulously planned (using 3D-modeling software) and the case specially modified for a perfect fit. "You need a very special skill set, as well as equipment and resources to attain anything close to the Orion X2 in performance or looks," Parry says. "I won't say it's impossible for others, but it's very close to impossible."
The Orion X2 also comes with a solid support package: If you live within the UK, the Overclockers UK team will hand-deliver the rig in a flight case and set it up for you at your location. The PC comes with three years of standard support, and you also have direct access to Parry for any issues. "Due to the very rigorous selecting of components and testing these systems go through before they're deemed ready to deliver to a customer, it's very unlikely anything will go wrong with them," Parry says. "But we do have a very robust system to fix any problems that occur."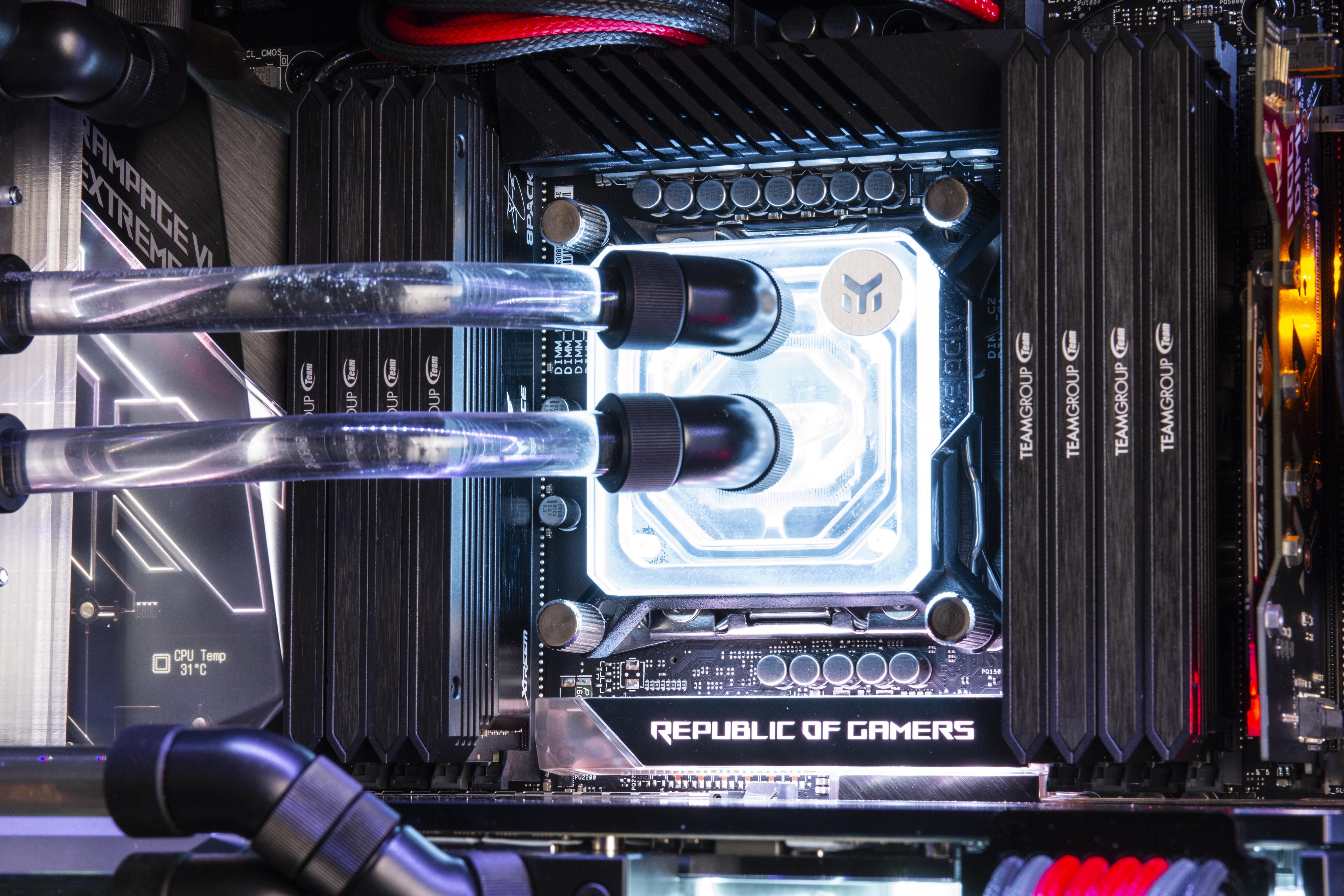 Any tips for gamers on a budget?
In a system as finely-tuned as the Orion X2, no single component is more valuable than another, because they're all hand-picked to work perfectly together. "In a system that can do everything, you need to include everything you can — and as such, all is important," Parry explains. "If you change anything out within the Orion X2, you lose performance. The Orion X2 is about performance and zero compromise."
For those of us with a more modest budget, Parry advises taking the main uses of your system into consideration, and spending your money accordingly. "If you're mainly gaming and streaming, a six-core CPU is fine," Parry says. "Also, remember that Intel® K or X CPUs can be overclocked for a free performance boost, and Intel's platform allows for easy memory overclocking with XMP memory profiles."